UHI Mitigation Toolkit at ASLA Texas
When Colter Sonneville, landscape architect from Austin, Texas, got in contact with us about an assessment of his design variants to mitigate urban heat island effects we were impressed by the amount of work and thought he put into his designs. It is still rare to see such thoughtful work, so we happily agreed to run a simulation on his designs for a neighborhood area in his hometown.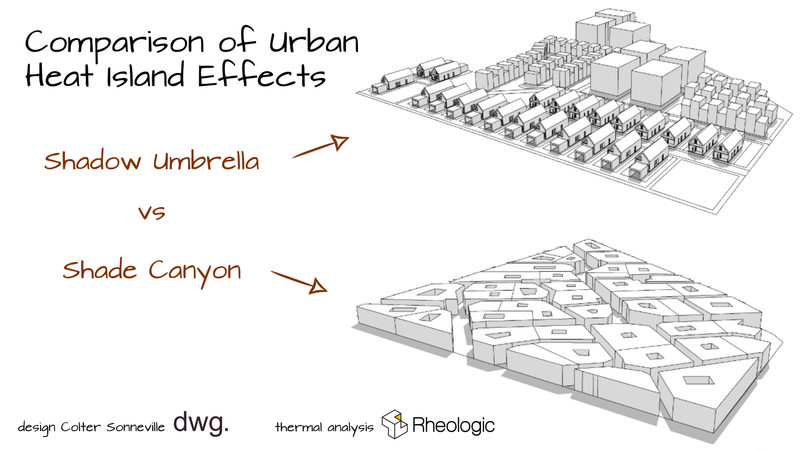 Shade Canyon vs. Shadow Umbrella - comparing different landscape design approaches for urban heat island mitigation. Design by Colter Sonneville, dwg. Landscape Architecture.
Colter is a chartered landscape architect and arborist, and is researching urban designs that minimise the impact of urban heat on residents, with, in his words for this particular work, a myopic focus on the issue, to the exclusion of many other important influencing parameters of urban landscape design. From our own practice, we are well aware that urban heat island mitigation is only one of many factors influencing urban design, so it was a refreshing change to see it brought front and center. The looming reality of increasingly hot urban temperatures with their health implications means that we will need to do much more of this in urban design to create comfortable and healthy environments in our cities. Following this line of thought, it can be argued that site assessments such as we have done for these designs should be included in quality assurance standards such as LEED.
Back to Colter and his work: The idea was to compare two different approaches to urban heat island mitigation. The first model, inspired by traditional North African architecture such as in the city of Medina de Fez, Morocco, called Shade Canyon, with narrow street canyons, and the second, more modern approach of Shadow Umbrella design, with more variance in building height but careful placement to maximise shade. Both approaches were adapted for maximum heat-island mitigation (for example, using green roofs where possible and deciduous trees in open spaces) and then applied as a thought-experimental intervention in a neighbourhood in Austin, Texas.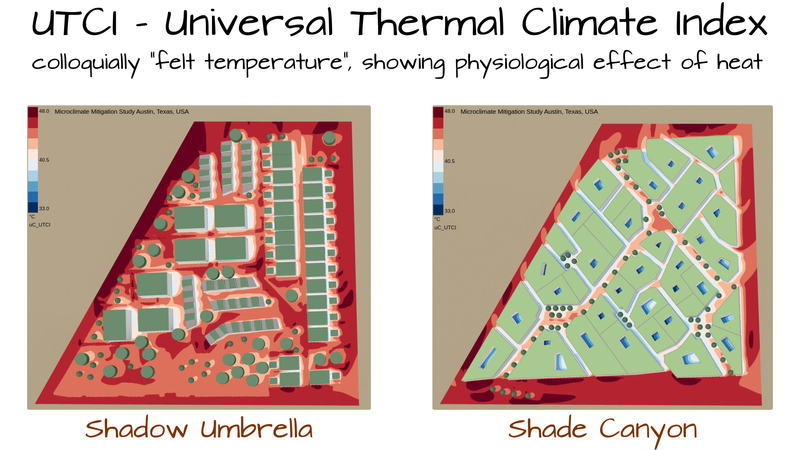 UTCI - Universal Thermal Climate Index - for two urban landscape climate-mitigation designs.
Using Colter's design, we carried out a microclimate analysis based on the climatic conditions at the project site. The results can be interactively explored in our microclimate browser 3D model. While both designs perform well, the Shade Canyon approach shows clear advantages in the outdoor UTCI under simulated conditions. However, the disadvantage is that night-time cooling is inhibited, so over the course of a long, hot summer this advantage will diminish as the ground and buildings themselves slowly increase in temperature. There are other differences between the models, from the obvious differences in accessibility to the floor plans and so on. Watch the full presentation here or download the full design toolkit used in this work from the link below!
Colter Sonneville's presentation for ASLAN Texas 2023.
We are grateful for the opportunity to work on this insightful study, which shows that there is much potential to improve urban design for heat island mitigation. We hope this will encourage landscape architects around the world to design climate-smart urban landscapes for generations to come!
Many thanks to Colter Sonneville for contacting us and for the interesting collaboration! Below are some impressions of his presentation at ASLA.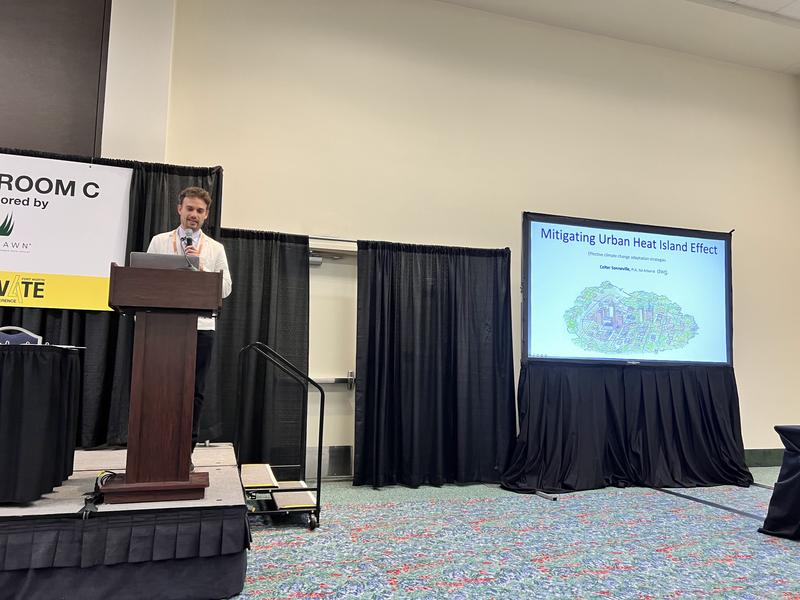 Colter Sonneville talking about urban heat island mitigation in urban landscaping at the ASLA conference 2023.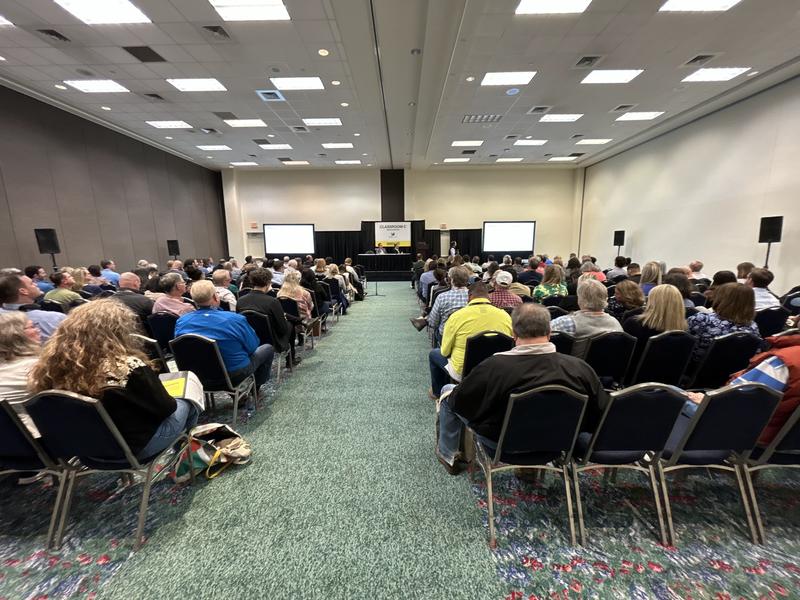 Visitors at the 2023 Texas Conference of the American Society of Landscape Architects.
Published: